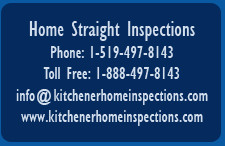 Do you require a Home Inspector for your property?

Home Straight Inspections offers home inspections in the following areas in Southern Ontario:
Kitchener, Waterloo, Guelph, Cambridge, Breslau, Elora, Brampton, Mississauga, Oakville, Burlington, Toronto (West), St. Jacobs, Fergus, Stratford, Elmira, Paris, Ayr, New Hamburg, Woodstock, Listowel, Arthur, Baden, Wellesley, New Dundee, Acton, Innerkip, Erin, Dundas, Tavistock, Halton Hills, Hamilton, Rockwood, Milton and Brantford.
Phone: 1-519-497-8143
Toll Free: 1-888-497-8143


Here is what our clients have to say regarding Home Straight Inspections:
"Thank you again for your timely service. We were pleased with your knowledge and thoroughness. With your consent, I would be pleased to pass along your name as a reference to my friends as well as my real estate agent. Your willingness to work within my tight time frame is greatly appreciated as is your professional and friendly manner."
W.K. Kitchener
"Thank you so much for this report. We very much appreciated your expertise and professionalism. We would be happy to recommend you to friends in the future."
G.S. Waterloo
"Thank you for this, Ralph. It was good to meet you and I truly appreciate your very detailed report. I feel much more confident in the home after you inspected it for me. Thanks again."
L.T. Kitchener
"Thank you very much, Ralph, for your service. I was very satisfied with your work, your explanations and your thorough inspection. I am sure me and my real estate agent are going to recommend you to other prospective customers."
" Thank you again."
B.T. Kitchener
"Hi Ralph, I just had a chance to read this report; it's really well done and very thorough! We really appreciate all your hard work on this, the report is really great to have and we feel much better knowing the ins and outs of our house."
"Thanks again",
L.M. & M.N. New Hamburg
"Thank you for the quick response on the report, it looks great... nice job. I will address all the items you have mentioned in the report and as we discussed at the house. I will refer you as much as I can and will comment on your website."
"Once again thanks for doing such a thorough job on our new home."
D.P. Cambridge
"Thank you for sending the report promptly. I can definitely say that it was a great experience working with you and appreciate your thoroughness. We will be recommending your services to anyone we know in the market for a home inspection."
M.B. Waterloo
"Thank you so much for this report and for stopping by our place last week. It was a great learning experience and we definitely think it was a wise decision. We'll be submitting our Tarion form shortly."
"Thanks also for the additional research on the sump pump, dimming lights, and fireplace!!"
"Warm regards",
K.D. & A.D. Cambridge
"Thanks for your report. Very much appreciated. We will be recommending you to many others and may use you again in a hopeful future move!"
"Thanks",
K.B. Campbellville
"Thank you for a thorough inspection and for your input on everything too. I do appreciate your prompt attention to getting the report to me. I'm sure you worked "overtime" to get it done. That's very kind of you."
"Thanks again and I will definitely recommend your services."
M.D. Mississauga
"Thanks very much Ralph. I really appreciate your service, and the professionalism you so clearly bring to your work."
A.M. Kitchener
"Thank you for the thorough inspection and I definitely learned a lot about how to maintain the house. My mom and I are happy about the report and the recommended steps to be taken. We will definitely refer you to our friends in the future. Once again, thank you for the inspection."
"Yours Sincerely",
S.C. Waterloo
"Thank you for the detailed work and I appreciate your accommodation for us even at the last moment. I do apologize for inconvenience in this regard. In future, I will recommend your company to a number of my friends for the work."
"Regards",
A.S. Waterloo
"Thank you for everything. I really appreciate it. I will definitely tell everyone at the office that you went above & beyond. Thanks again."
L.G. Kitchener
"We are quite excited to get the keys of our very own first home. Our dream couldn't have come true without your help, so you deserve a big thank you from us."
"The thorough inspection you performed gave us the confidence that we are getting very good house. Thank you very much Ralph for your help."
P.D. Kitchener
"I really appreciate your great help and follow up, thanks a lot for your update and your advice. I'm very happy that this inspection has been done by you."
R.M. Kitchener
"Thanks Ralph.....the clients had nothing but great things to say about your input and professionalism. Thank you for taking care of them."
J.T. Waterloo
"Thanks so much for doing such a thorough inspection of my future home. You didn't miss a thing; and I feel so relieved and secure moving forward. Today, I'm writing to tell you how much I appreciated your going above and beyond what I had ever expected a house inspector would do."
"Your 'straight' talk, amply reflects the the professional standards of your company! Thanks again for the great job that you did and the cordial manner in which you did it. My real estate agent was also very impressed."
B.B. Waterloo
"I received the inspection report and it looks great. Very well done. Thank you for your time and patience on waiting for the key to arrive. Also it was pleasure speaking with you. Thank you again and I'll definitely be recommending you to others who need a home inspection. Have yourself a great day.
D.M. Cambridge
"Well, I am happy everything worked out well for the buyers, they are very happy with your service and I really appreciate that your priority was to provide service to the customer."
"This is what the buyer wanted me to convey to you:.... "
"Thank-you so much for getting this gentleman to check the place for us. It was a pleasure to meet him. Very approachable and very nice man. If you have the opportunity, please pass these comments from us to him."
"Thanks again and take care. Myself and the buyers will surely recommend you to other potential clients."
F.A. Waterloo
"Thank you so much for the speedy report and for your thorough inspection. It was great to meet you as well."
"I was very pleased, I certainly would recommend you in the future!"
B.P. Waterloo
Kitchener Waterloo Home Inspectors. Home Straight Inspections offers home inspection services for houses, condos and townhouses in Kitchener, Waterloo, Cambridge, Guelph and the surrounding areas. Home inspection services in Southwestern Ontario. AHIT certified.
AHIT Certified Home Inspector

Registered Home Inspector of the Ontario Association of Home Inspectors (OAHI)

CAHPI Registered
Home Inspector
Home Inspection Tip of the Day: